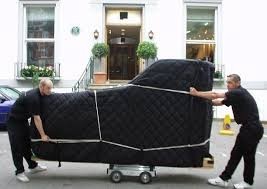 Professional Kansas City Piano Moving
Conscientious piano moving with the right equipment for the job
Stairs, doors, tight corners and other twists and turns make piano moving quite a feat. Whether your piano is an antique grand or an inherited upright with sentimental value, moving it is a job best left to professional piano movers. Remember, pianos cannot be placed on their backs to be moved. Also, most of a piano's weight is in the back making it prone to tipping backwards when moved. When moving a piano, extreme care in protecting sensitive internal parts and external finishes must be taken. There's definitely a skill involved to safely moving a piano.
Everything you need to enjoy your piano
Meyer Music works with the best and most qualified piano movers in the Kansas City metro area. These guys are not just strong, but also they have the right equipment to carefully place your piano anywhere you want it without so much as a scratch. We will provide a piano moving referral you can trust. We're committed to helping you get the most out of your piano playing experience, that's why we offer a full suite of piano related services including piano lessons, piano tuning and both used and new piano sales.
At Meyer Music, we're all musicians at heart.  That's why we're in the piano business in the first place. Stop by any of our three convenient locations and find out for  yourself what sets us apart.  If you have a rare or expensive piano to move, don't trust it a moving company.  Stop by for a free consultation with our piano experts, and let us help you make the right decision.  Regardless if you're a previous customer or someone we've never seen before, we want to make sure your piano gets moved property and with great care.  We hope to see you soon!