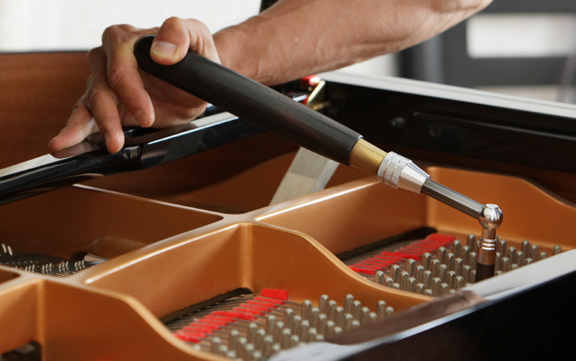 Expert Piano Tuning
Regular  tuning protects your piano and extends its life
Every piano manufacturer has particular recommendations for scheduling piano tuning. In addition to manufacturer's suggestions, how often and under what conditions the piano is played are also factors to keep in mind.
As a general rule, vertical and grand pianos require tuning approximately twice each year at the least. New pianos could be tuned three to four times a year. Pianos used in concert settings or in studios could need tuning a couple of times per week.
Climate also affects how often you should have your piano tuned. Many piano components are wooden and shrink and swell as humidity levels change, which is common in our Kansas City climate.
Intense piano playing in dry winter months puts stress on piano components. Tuning more often could be helpful in preventing damage. Even if your piano is rarely played, regular tuning is recommended to preserve the piano's value and extend its life.
The Meyer Music difference
Meyer Music works with many professional piano tuners all over the Kansas City area. We will be happy to help direct you to a piano tuner who can keep your piano in perfect tune and shape.  It's just one of the additional services that we provide to make sure you get the utmost enjoyment out of your piano.  Along with piano tuning, we offer a wide selection of new and used pianos, grand pianos, piano lessons and even piano moving.
We're music lovers at heart, and that's why were in the piano businesses.  We invite you to stop by any of our three convenient KC metro locations and visit with one of our piano experts.  Regardless of if  you're a new or returning customer, we'll  help you get what you need to make the most of your piano playing experience.  We hope to see you soon!