2015 Band of Angels Instrument Drive
Aug 10, 2015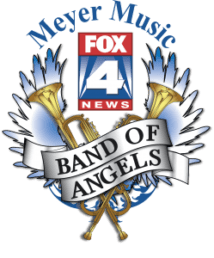 Join us to kick off the 2015 Band of Angels Instrument Drive:
Friday, August 28: Watch the Fox 4 News Morning Show, we'll be talking about Band of Angels from Ruskin High School.
Saturday, August 29: Join us at our Overland Park location, along with Fox 4 and the Saturday morning show. And, if you have an instrument gathering dust, bring it in.
Band of Angels is a nonprofit organization that collects used music instruments from those who no longer need them and helps make them available to kids in need who couldn't otherwise afford them.
Band and orchestra instrument donations are accepted at all three Meyer Music locations. Since 80 percent of the instruments donated are not in working order, technicians repair and clean each instrument before its donated to a student.
After consulting with area schools, each instrument is matched to a student in need. Band of Angels has collected well over 1,000 instruments and has given them to disadvantaged students in 60 school districts within a 100-mile radius of Kansas City. Fundraisers throughout the year, along with cash donations help fund purchasing instruments.