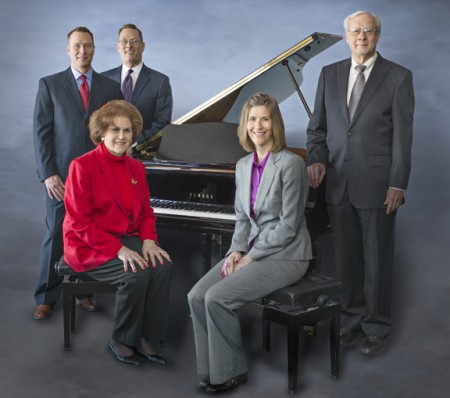 About Meyer Music
Music is a family affair, as well as our legacy
Music is a family affair at Meyer Music and the Meyers' family legacy. Meyer Music opened its doors in March of 1966 with one small location in Blue Springs, Missouri. Our music business has grown and flourished tremendously over the decades, adding two additional locations in Overland Park and Kansas City North plus many new Meyer family members.
Founders, Ted and Betty Meyer, were both educators in Kansas City schools and originally opened Meyer Music to supplement their income. Meyer Music is proud to offer more private music lessons and instructors than any other Kansas City music store. Music education is such a crucial part of a child's development. With music programs at risk in many school districts, we believe it's important to offer the additional support students need through the Band of Angels program and top-notch private music lessons to supplement school learning.
Ted and Betty Meyer wanted Meyer Music to be a family affair. All of the Meyer children began music studies at a very young age and started helping with the family business as soon as they could see over the front counter. Today it is not uncommon to see three generations of the Meyer family working in the store.  The Meyer children, Tom, Mike and Mitzi, are passing down the same work ethic and customer service philosophies to their own children.
Our family's attention to detail, customer service, and superior quality products makes Meyer Music the best choice for your family. We have a down-to-earth customer service approach and a Meyer family member at each location able to answer any questions. Those answers come with the benefit of over four decades years of experience.
The musical instrument lines we carry reflect our beliefs in selling quality pieces at price points for every budget. We carry a full line of quality pianos from renowned brands such as Pearl River. We also feature instruments from all major brands for band instruments, orchestra instruments and musical accessories. We feature brands such as Yamaha, Bach, Selmer, Buffet, Glaesel, Scherl & Roth, Giuseppe Orchestral Strings, and many others. An outstanding selection of sheet music for all instruments is par for the course.
Stop by and see us at any of our  three convenient locations throughout the Kansas City metro area. We're looking forward to meeting you and serving your family's music needs for years to come.