Thinking About Donating a Musical Instrument You No Longer Need?
Consider the Band of Angels Instrument Donation Program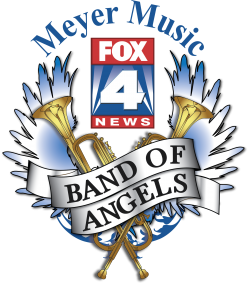 Band of Angels collects donated musical instruments and cash for purchasing instruments and puts them in the hands of needy children who want to study music. In many cases, a child's family does not have the funds to buy or rent an instrument. All donated instruments are refurbished and restored to playing condition before they are given to a child. Please help in supporting music education by making a donation to Band of Angels, and giving a child a chance to learn music.
Band of Angels was formed as a partnership between Fox 4 TV and Meyer Music. Your contribution to Band of Angels will help to give the gift of music that will last a lifetime. Visit the Band of Angels website to learn more about the program and how you can help with monetary or instrument donations.
Watch Destiny White-Dixon's Story
View the video below to learn how Band of Angels made a difference in one of many recipients' lives.
Help make a difference. Donate Now.