Donate Your Used Instrument to Band of Angels
Bring Music to the Lives of Children in Need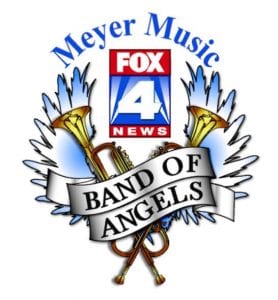 Through Band of Angels donors' generosity, 1,600 instruments and counting have been donated to students who couldn't otherwise experience the joy of joining their schools' band or orchestra, much less attended summer music camp. In so many cases, a child's family does not have the funds to buy or rent an instrument. Money should never stop a child from pursuing music, so Band of Angels collects used musical instruments and cash donations to purchase instruments and put them in the hands of children who want to study music. All donated instruments are refurbished and restored to playing condition before they are given to a child. Instruments that cannot be restored are given to local artists who transform them into works of art auctioned at the annual Art That Blows fundraiser. No donated instrument goes to waste. Band of Angels was formed as a partnership between Fox 4 TV and Meyer Music. Your contribution to Band of Angels will help to give the gift of music that will last a lifetime. Visit the Band of Angels website to learn more about the program and how you can help with monetary or instrument donations that give a child the chance to learn music.
Instrument Drop-Off Locations:
Meyer Music Blue Springs
1512 US-40 Blue Springs, MO 64015
Meyer Music Overland Park
11890 W 135th St. Overland Park, KS 66213
Meyer Music North Kansas City
6312 NW Barry Rd #14, Kansas City, MO 64154
Make a Cash Donation to Band of Angels.