From experienced movers and professional tuners to the most reliable equipment and tools, learn what makes piano services from Meyer Music trusted in Kansas City.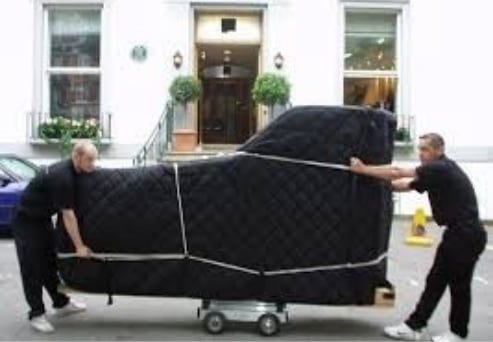 Piano Moving
Conscientious Piano Movers with the Right Equipment for the Job
Whether your piano is an antique grand or an inherited upright with sentimental value, leave piano moving to Meyer Music's conscientious and experienced movers. There is expertise involved with safely moving a piano, such as avoiding damage by not moving it on its back, being aware of tipping hazards due to weight distribution, and more.
If you have a rare or expensive piano to move, don't trust it a moving company. Meyer Music works with the best and most qualified piano movers in the Kansas City metro area. These specialized movers maneuver stairs, doors, tight corners, and twists and turns with extreme care to place your piano exactly where you want it. And, they do so while protecting sensitive internal components and exterior finishes.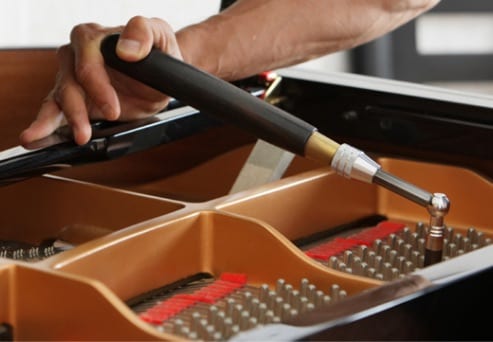 Piano Tuning
Protects Value. Extends Life. Preserves Sound Quality.
To protect your piano's value, extend its life, and preserve sound quality, follow the manufacturer's recommended tuning schedule. How often the piano is played and under what conditions also effect when it needs tuning. As a general rule, tune:
Vertical and grand pianos twice a year.
New pianos three to four times a year.
Pianos used in concert/studio settings couple of times per week.
Humid climates cause wooden components to shrink and swell. Intense piano playing in dry winter months puts stress on piano components. Tuning more often could be helpful in preventing damage.
Meyer Music maintains relationships with the most reputable professional piano tuners in the Kansas City area. A referral from Meyer Music to a qualified piano tuner saves you the time and frustration of finding someone you can trust to keep your piano in perfect tune. Think of it as our way of helping you gain the utmost enjoyment from your piano, whether it was purchased from Meyer Music or not.