What an honor and achievement for a marching band director and his or her students to receive an invitation to showcase their talent by performing in one of our nation's iconic parades. It is a privilege to which many directors aspire; however, given the enormous number of marching bands vying for an invitation, very few receive one.
The Kansas City metro is home to several award-winning marching bands, some of which have marched in the country's biggest parades. Recently, Grain Valley School District R-5's high school band marched in Macy's 2016 Thanksgiving Day Parade in New York City, NY, and Louisburg Unified School District 416's band was invited to perform in the 2018 Tournament of Roses Parade in Pasadena, CA.
Whether you're a band director charged with building your district's program or your band is prepared to march on a national stage, getting advice from those who've successfully navigated the application, preparation, fundraising and travel processes is invaluable. Grain Valley's band director, Reid Atkinson, and Louisburg's director, John Cisetti share their parade experiences and what they and their students have learned along the way to help other directors and bands fulfill their dreams of marching in an iconic parade.
How Director Reid Atkinson led Grain Valley's Marching Band to the Macy's Thanksgiving Day Parade
Reid Atkinson is in his 9th year teaching for the Grain Valley School District. He was hired right out of college to build the district's band program and marching on the national stage was part of his earliest goals. Reid looked at other bands' movement, playing, percussion and color guard as inspiration.
Choose an Area to Improve and Go from There
"We chose focus areas. One year they were movement of marching and creativity. Each year afterward, we'd choose another. We took a methodical and clear approach to deciding what we wanted to look and sound like by the end of each season, and we'd "up" it as we went," explains Reid.
Not only was the band's performance evaluated yearly, but so was the training program. Reid and his department assessed what went well and what needed improvement, adjusting as needed. They turned to outside experts for feedback from a different perspective. "By reflecting on what we could do better and getting opinions from others, we improved our performance and strengthened our ears and eyes. It wasn't only band-development. It was self-development," says Reid.
Preparing to march for national occasions meant shifting students' expectations. A culture of performance excellence was nurtured. Band members had to feel a part of this culture, so Reid reiterated that excellence was a goal worth striving for and that hard work was how it was achieved. The band culture "hyped hard work," versus dreading it. Administration and parent support was key in supporting the culture, and it became a rally point for everyone. "There is no loss in having a culture of excellence. We all, students, parents, teachers, administration, the community, win by having a nationally recognized marching band," states Reid.
With performance and culture solidly in place, Reid confidently submitted Macy's Thanksgiving Day Parade application in mid-February of 2014. The marching band was accepted on its first submission, which is highly unusual, in early April, 2014, and it was announced to the students in May. Reid recalls, "I knew we could do it, but was expecting to have to wait for name recognition to kick in." The announcement took the students by surprise since Reid had kept the application a secret. He says, "Acceptance is subjective, and we didn't want the students to feel that they could've done more. They couldn't have and had we not been chosen, it would've been for a reason other than our performance level."
What was Macy's looking for?
Since the parade is broadcasted on NBC, production value and visual appeal must be at the professional level. Creativity, execution and new organizations with new faces were sought. "Our show spoke to what they were looking for. Our application video highlighted us using 50 10' x 10' bright orange tubes in our performance while playing a standard band song as a Tango. Basically, we spotlighted our unique way of doing things. Macy's is creative in general, so its committee recognized these twists," explains Reid.
The Year Leading Up to the Parade
They had 18 months to prepare. The first six months were spent planning logistics, such as mode of transportation, accommodations and sightseeing activities. Cost was calculated and slightly padded to cover increases since prices only go up as time passes. A year in advance, meetings were held with parents to present the itinerary, discuss safety, monthly payments and monthly fundraising options.
On Thanksgiving Day, the district superintendent, activities director and principal marched alongside the Grain Valley High School Band, signaling the beginning of the holiday season for many since 1924.
How Director John Cisetti got Louisburg's Marching Band Selected for the Tournament of Roses Parade
John Cisetti, in his 38th year of teaching at Louisburg, rang in 2017 by taking in the sights and sounds of the Tournament of Roses Parade. Parade officials hosted John for the event, giving him a front row seat to the 5.5-mile parade route that he and his band students will be marching down New Year's Day, 2018 in front of 1 million spectators and another 50 million watching the broadcast in 248 countries.
Louisburg's high school marching band's journey to the Tournament of Roses Parade began with taking small steps. The band started out marching in smaller parades, like Kansas City's St. Patrick's Day Parade, then each trip got a little bigger. "Always look for ways to promote your marching band and program. No one else will do it for you," advises John.
Try and Try Again 
Over the years, the band has marched in St. Louis, Chicago, Dallas, Washington D.C., New York City and Indianapolis. The marching band takes a big overnight trip every four years so that all band students benefit from that learning experience once in their high school careers. John has applied to several of the "big ones" over the years, multiple times, including Macy's Thanksgiving Day Parade. He submitted the Tournament of Roses Parade application for the first time in 2008, and has reapplied five times since. The application deadline falls near late May or early June, and invitations to march are sent out in October.
Per the Tournament of Roses website, "Bands are selected by the Tournament of Roses based on a variety of criteria including musicianship, marching ability and entertainment or special interest value. To be considered, band representatives submitted detailed applications, which included photos, video footage and letters of recommendation."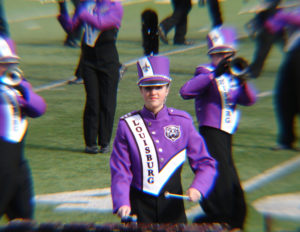 "Every year our application to march in the Tournament of Roses Parade grew stronger and stronger because our experience grew. Our story is one of patriotism in a small Kansas town, the heart of America. We think of it as 'positive patriotism.' We serve our community with our talent, playing at patriotic services whenever possible," explains John.
That resonates with the Parade committee and the music director offered John feedback on the band's application. The committee loved what they were doing, and wanted to be impressed with a big, loud sound so that when the band marches around the famous TV corner, they don't cut to commercial.
"We had 135 students in marching band. To get that big, loud sound they were looking for, we added our 8th grade band students to the high school band. We practiced marching around corners in our parking lot. Finally, we asked Louisburg's mayor to shut down Main Street for a trial run and video shoot. The community lined the sidewalks as we marched through town with drones capturing it all. That's how we nailed it," says John.
A Year of Preparation
In the year the band has to prepare for their debut in the 2018 Tournament of Roses Parade, Louisburg's marching band students are undergoing physical conditioning to prepare for their 5.5-mile march, perfecting their performance and continuing their positive patriotism to continue being deserving of this opportunity and honor.
Fundraising efforts are underway, including annual fundraisers, car washes and garage sales. "We offer lots of opportunities for band students to raise the money needed for the trip, so family finances aren't an issue to overcome. Our district is very supportive of our efforts, and all the money raised goes to our trip expenses only," says John.
"Tournament of Roses Parade is a great honor that's come to us. We celebrate this. But I also see this as a tool that's going to bring out the best of ourselves. It gives us an opportunity to push ourselves to be the best we can be. Marching in the Parade will be in the top ten things we've done in life. Every year, our band students can point it out on television and tell their grandchildren that they did that," explains John.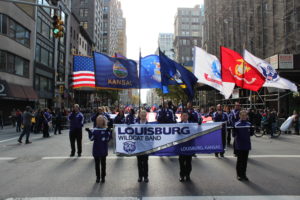 Put the Learning Experience First and Foremost
Both band directors point out that marching in iconic parades is an achievement, but secondary to the learning experience it offers band students. For example, while preparing to march in the Veteran's Day Parade in New York City, Louisburg's marching band members identified a veteran, interviewed him or her and wrote about a piece about what they'd learned from the veteran. Photos were taken of the veteran and turned into buttons the student wore while marching. When they returned from New York, their writing pieces were turned into a book as a keepsake of the trip. On their way to New York, the band stopped at the 9/11 Memorial Site in Pennsylvania to play a few songs and lay a wreath in honor of those who died there. "Military uniform or not, everyone can show their patriotism and serve their community in some way," says John.
Grain Valley's band staff is already looking at what is next for their marching band students. Reid explains, "Thinking big forces us to step up to the plate." Whatever it is, it will be student-centered and encouraging them to achieve at their next level. "Having your band's name announced on TV doesn't make you better people or musicians. Spending time investing in giving students the best learning experiences is what increases skill level, which trickles down to each raising their self-expectations," says Reid.