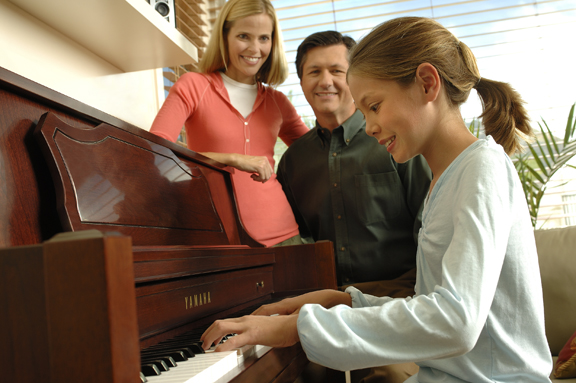 A Dazzling Selection of Vertical Pianos
Upright pianos from Pearl River
For beginning piano prodigies to accomplished pianists, vertical pianos deliver amazing sound at exceptional value. Vertical pianos solve a myriad of issues for our customers for whom space, size and budget are important factors. Upright pianos typically range 5' by 2' so they are the piano of choice for those without the room or desire for a grand piano.
Vertical pianos are extremely budget friendly and Meyer Music carries Kansas City's largest selection of new and used upright pianos from Pearl River. We've carefully selected these brands because they represent quality and give you options at various price points.
The right vertical piano for any player
Wood tones to glossy blacks… Spinets, consoles and studio vertical pianos… Walk in to any of our three locations and play any of our upright pianos side by side to find the perfect fit, feel and sound for you. Even though vertical pianos are space savers, try out the largest upright that will fit in your space. Bigger vertical pianos are known to have a better sound than smaller versions since larger pianos accommodate longer strings. Keep in mind that each upright piano manufacturer is known for its unique sound—some are warmer and others are brighter. It's a matter of preference and our vertical piano specialists can point you in the right direction.
New and used upright pianos
Meyer Music also carries used and trade in vertical pianos. Our stock of upright pianos changes often and our quality used pianos begin at only $500 and carry a one-year warranty. When the time comes for a new upright piano, we have a very generous trade in policy. Have a question about Meyer Music's new and used vertical pianos? We're more than happy to help you find your perfect fit.  Come by any of your three convenient locations for a free test drive!
Why Meyer is the Midwest's leading piano dealer
Music is a family affair at Meyer Music and the Meyers' family legacy. Meyer Music opened its doors in March of 1966 with one small location in Blue Springs, Missouri. Founders, Ted and Betty Meyer, were both educators in Kansas City schools and originally opened Meyer Music to supplement their income. Meyer Music is proud to offer more private music lessons and instructors than any other Kansas City music store.  We're here to help you with all aspects of your piano purchase…from choosing the right vertical piano to helping tune your piano, move your piano and of course upgrade to a new model when the time is right.  Still have questions?  Use the short form below to send us your question or request.  Of course, we'll special order any piano that you don't see on our showroom floor.  All you have to do is ask!