Louisburg High School Marching Wildcat Band receives $1,000 grant for young musicians in need.
The Kansas City community spirit is alive and well, making a difference for Louisburg High School band members who were selected to march in the 129th Tournament of Roses Parade in Pasadena, California on January 1, 2018. Tournament of Roses Parade President Lance Tibbet visited Louisburg, Kansas recently to recognize the achievement of the Louisburg High School Marching Wildcat Band, and honor Band of Angels and the Kansas City community for their generosity. Tibbet and his wife, Amelia, underscored the importance of strong community that quietly and selflessly acts in generous ways to enrich the lives of others with the theme of this year's Parade, "Making A Difference."
Tibbett presented Band of Angels Chairman Mike Meyer with a "Making A Difference" pin during a series of receptions with community leaders and citizens. Band of Angels, which provides musical instruments and scholarships at no cost to students in need, was recognized as one of our local organizations that truly represents the "Making A Difference" spirit.
"I want to recognize Mike Meyer's efforts with Band of Angels, making instruments available to kids who wouldn't otherwise have an opportunity to have an instrument and making a difference for those kids and the community as a whole," says Lance Tibbet, Tournament of Roses Parade President. "This 'Making a Difference' memory is exactly what our theme embodies."
Formed in 2010, Band of Angels was created to collect used instruments from the community and provide them free of charge to students and schools in financial need. A scholarship program for summer music camps was added two years later. Since the program's inception, it has helped more than 1,700 students and schools with donations collected, and 170 students attend summer music camp on full scholarship.
Several students over the past seven years from the Louisburg community have received instruments from Band of Angels. As a further commitment to the Band of Angels' mission, the organization is committed a $1,000 grant to be used for a student in need to help with the cost of making the trip to Pasadena to march in the parade on New Year's Day.
"To take on a trip like this is no small undertaking. Band of Angels has been a blessing for us here in Louisburg," says John Cisetti, Louisburg High School Band Director. "Several students who would not have had the opportunity to participate in band are doing so now, thanks to the generosity of Band of Angels. And, more importantly, thanks to those who donated their used instruments for our kids. We are so grateful that organizations like this exist to help kids in need."
In support of the Louisburg High School Marching Band, fundraising efforts began last year to raise the $500,000 required to travel to California for the parade with an entire band and their equipment. Thanks to the generosity of the Kansas City community who have made instrument donations and supported Band of Angels financially, there will be several students marching the five-mile parade route who will have a memory of a lifetime.
"We had no idea when we started this simple program that it would have the effect it has had on so many, so quickly," says Mike Meyer, Chairman of Band of Angels. "Being recognized for helping to make a difference by such a time-honored organization like the Tournament of Roses is very humbling and something I will never forget."
While many recognize the parade and accompanying football game as the focus of the organization, the Tournament of Roses has a long-standing tradition of community support through the Tournament of Roses Foundation. Since its inception in 1983, the Tournament of Roses Foundation has funded more than $3 million in charitable contributions on behalf of the Tournament of Roses Association.
About Band of Angels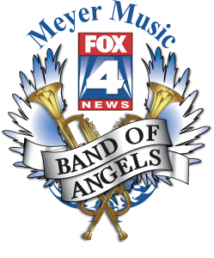 Band of Angels was established in 2010 as a nonprofit partnership between Meyer Music and WDAF-TV Fox 4. The organization collects used instruments and cash donations to put band and orchestra instruments in the hands of Kansas City area students in financial need who want to participate in school programs. So far, more than $50,000 has been raised for summer music camp scholarships, nearly 1,000 instruments given to students in need and 50 students received full scholarships to music camp. Learn more at www.bandofangelskc.org.