Yamaha Sax Artist George Shelby Rocks the House to Benefit Band of Angels in Kansas City
Mar 25, 2016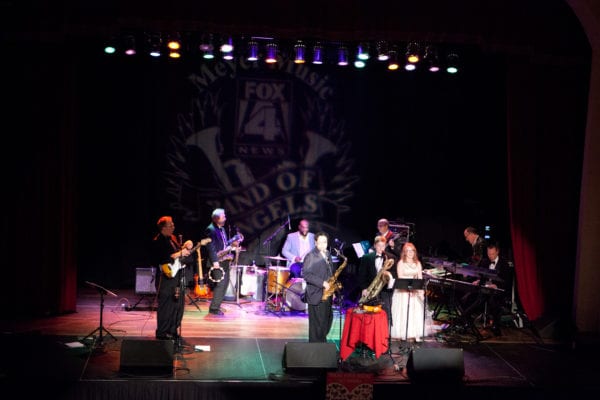 KANSAS CITY, Mo., (February 6th 2016) - Yamaha saxophone artist George Shelby rocked the house on Saturday, February 6th to help benefit kids in need at the Band of Angels Heart Strings Gala. The sold out gala held at the Madrid Theater in Kansas City is a benefit to raise funds for the Band of Angels (BOA) program. This year's event was the most successful to date and raised $60,000 to support its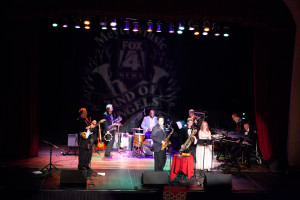 mission. Along with Shelby, students Morgan and Connor Cravens shared the stage for two songs and played along using the instruments donated to them through the program. Getting to share the stage with a musician of this caliber was the thrill of a lifetime for the 8th and 9th graders from Desoto KS. "Thank you once again, for all that you have done for my kiddos. They are still on cloud 9 from Saturday night. They told me last night that, that they will be forever indebted to you, and the Band of Angels organization." Said Kristin Moore, mother of Connor and Morgan.
The pre gala reception for donors also featured orchestra students from the Ottawa Suzuki Strings Camp in Ottawa KS. Student Mariah Covington who played a solos for the VIP reception attendees. Mariah was a recipient of the summer camp scholarship to the week-long Suzuki camp held each year.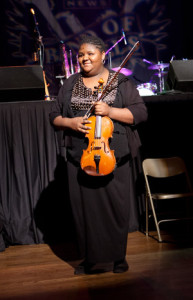 Mariah was presented with a new performance level viola by BOA after the event to help continue her music growth." "This is such a great event and we are so proud to be involved and help these kids. I was a student who was provided an instrument as a child and it help me become an orchestra teacher. For many of these students this simple act of kindness could become their passion and potentially their career too." said Kathleen McCullough BOA board member and retired orchestra teacher.
Band of Angels was formed as a partnership between Meyer Music and Fox 4 TV in KC to collect used music instruments and provide them to kids in financial need. The instruments collected are given free of charge to students wanting to participate in beginning band and orchestra programs across both Kansas and Missouri. Band of Angels also offers scholarships to summer music camps to these students who have received instruments through the program. To date, 60 kids have attended week long summer music camps on full scholarship through Band of Angels. "This program has just gone far better than first expected" said Mike Meyer – Chairman. "Our goal was to really take a student who had a strong desire, but might not have the financial resources to participate, and really help surround them and bring them into our music community. The beauty of it is we are not only helping the kids, but also helping the music camps stay strong and viable for the future so it is a total win win."
Founded in 2011, Band of Angels has provided over 1000 instruments to kids and schools in the short time since its inception.
For more information regarding Band of Angels, visit www.bandofangelskc.org or email: angels@meyermusic.com.